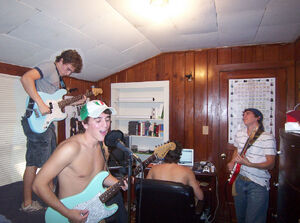 Sean started Moose Naslon in college as a way to put out all of the music he had previously written and started recording. He is the only member of the band, but either plays or writes all of the music. For the instruments he does not play, he writes them as a software instrument in Apple's Garageband.
As he mentioned in an interview with himself, he decided to release music as if it were coming from a band, as nobody would take a preppy kid from the South seriously if he was releasing pop punk music under his own name.
Thus begat Moose Naslon, an anagram of his name.
A Tribute to My Muses
Edit
A Tribute to My Muses was the first album Sean recorded. Though he recorded it in college, all of the songs on
the album were written in high school. The theme of the album is teen relationships, mainly showcasing the confusion and frustration of being a boy in high school trying to fit in and find someone, however fleeting.
Track Listing
Edit
If She Only Knew
Cocktease
You Brighten My Day
Don't Blink
Spider-man
Last Straw
Right vs. Wrong
Song for the Both of You
Messin' Around (Instrumental)
Let Go
¿?
Desire (unfinished track)
Bleary Montanan Summer
Edit
With increasingly diverse musical interests, Moose Naslon's sophomore album displays a much wider musical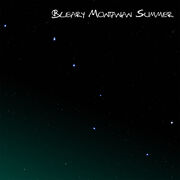 approach than A Tribute to My Muses. Where the first album stuck to a traditional one guitar, one bass, one drumset lineup for each song, Bleary Montanan Summer abandons the simplicity in favor of multiple instruments (both live and software) to piece together each song.
In writing these songs, Sean took a different approach than he had before. Previously, all of his songs' lyrics were written first, and then music was written to match. This time around, many of the songs were written as instrumentals (or at least pieces of instrumentals), and then lyrics were written based on the feel of the song. Sean has said that this allowed him the chance for the music to be just as important in telling the story as the words.
The album, which began recording as early as 2005, with most of it done in 2006, has never been finished. In the midst of writing and recording, Sean's computer died and he was unable to recover all of his work, including recording and lyrics he had written. Though he has re-recorded some of the songs, he has decided to leave the song "Message in the Sand" in its original instrumental form with no lyrics, saying he could not recreate the same lyrical perfection for the song that he had done originally. Many other songs remain partially finished.
Track Listing
Edit
Kidnapped
Big Dipper
My Tough Decision (working title)
Lost
Message in the Sand (left as instrumental)
A Promise
Oatmeal
Be
Untitled Concept
Leaving You (working title)