The number 39 has been used by Sean for years, as a way to add some personality and make things uniquely "Sean," such as online handles N64Pro39, el rey039, seansolomon39, and sean3939.
Sean originally became enamored with the number 39 because of a baseball player at Florida State University in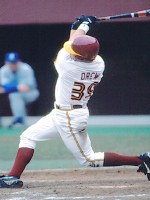 the mid-1990s,
J.D. Drew
. Drew was the winner of multiple awards during his college career, including the 1997 Golden Spikes award, and became the first player in collegiate history to hit 30 homeruns and steal 30 bases in one season.
Sean adopted the number 39 as his jersey number his first year in little league, and it became his number of choice since that time.
Further Exploration
Edit
Taking a deeper look at 39, there are a lot of interesting mathematical coincedences about the number:
Sean's original favorite number was the number 3 (his birthday is Jan 3; also worn by Bob Sura for FSU basketball). 39 is a combination of the number 3, and 9, which is 3x3.
The number 13 plays prominently as well. Sean once gave a speech in the 4-H Tropicana Speech Contest about the number thirteen and its unlucky (or lucky?) history.
Sean's birthday is January 3, or 1/3.
39 is 13x3.